Manufacturer:
Kartell - design with emotional features In 1949, a new Italian company , KARTELL , was founded in Milan, whose original focus was the production and sale of plastic components for the...
Design golden table lamp Taj Mini Metal

Elegant lamp made of stylish plastic
The Taj lamp was created by the world-renowned designer Ferruccio Laviani.It stands out forits clean, simple shape, which will beautify the work desk, the bedside table in the bedroom and the reading corner in the living room. Whether on or off, it will become an unmissable decoration in any room. It uses LED technology as its light source . The dimensions of this model are 9.5 x 31 x 32 cm (width x depth x height) and there is a choice of gold or copper. So get a piece for your home that will make you happy every day.
Welcome to the world of Kartell

Are you looking for furniture and design accessories for your space that are elegant, playful and unusual? Then you have come to the right place. The Italian company Kartell has made a name for itself with products that are not only fully functional but also pleasing to the eye. In its portfolio you will find not only armchairs, chairs, tables, lighting, sofas, but also mirrors, vases or glasses and plates. Kartell has also made a name for itself with its manifesto "Kartell Loves The Planet", which aims to use new materials that are easily renewable and do not have a negative impact on the planet. It has also launched a new material, Polycarbonate 2.0, which is based on a second-generation renewable polymer.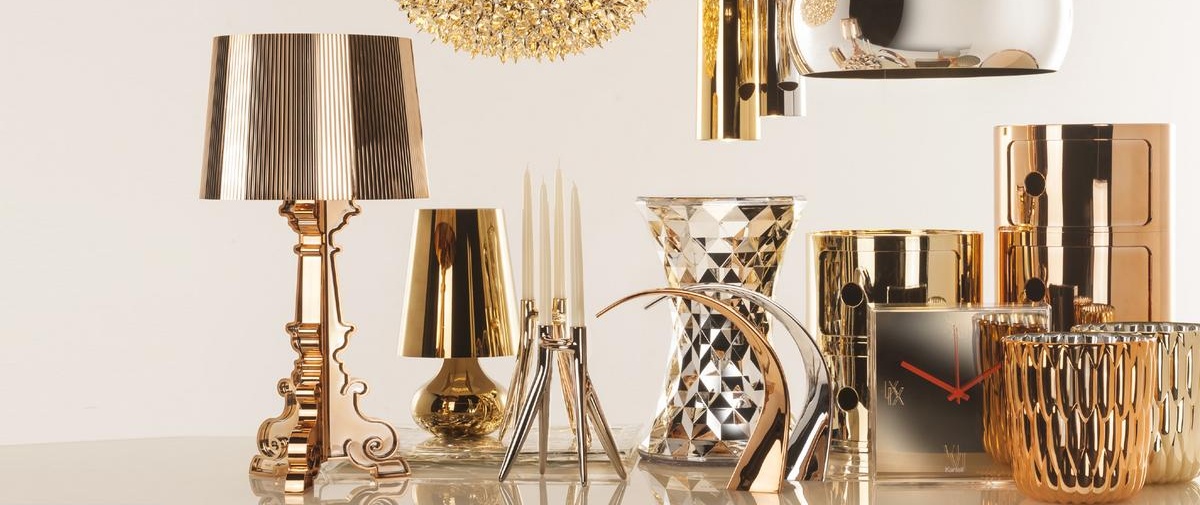 We want your furniture to last as long as possible. Because we know that proper maintenance plays an important role in its durability, we have prepared some tips and recommendations on how to care for different types of surfaces and what to avoid >> furniture care.
| | |
| --- | --- |
| Width | 95 |
| Depth | 310 |
| Overall height | 320 |
| Weight | 0,850 / 1,510 |
| Packaging | 1 |
| Guarantee | 24 |
| Package volume | 0,038 |
| Material | metalické PMMA |
Catalog
catalogue2019.pdf
Taj metal.pdf
Katalog Kartell 2021.pdf