Sofa FIORE
For casual and everyday sleeping

FIORE is a comfortable design sofa that can be transformed into a sleeping bed in one movement. It features simple angular lines and offers soft comfortable sitting and lying. It will find its use in smaller apartments, you can use it as a bed for your guests or it is perfect for hotels and other accommodation facilities. This piece can be chosen from three sizes. The mattress size is 120 x 197 x 13 cm for the 2 seater version, 140 x 197 x 13 cm for the 3 seater version and 160 x 197 x 13 cm for the maxi version. You can also choose between four sizes of armrests. The seat can also be purchased in a fixed version.



Material
The seat and back cushions (with a density of 30 kg/m³ and 21 kg/m³) are made of expanded polyurethane covered with a fabric treated with 200 g of resin. The construction is made up of eco-friendly wooden panels. This model can be equipped with a roller option system that allows mobility around the interior. A chrome base is available at an additional cost. The seat upholstery can be chosen from a wide range of materials. Custom fabric is also an option. For this seat you will need 9-11 metres of a regular roll of fabric (roll width 140 cm) depending on the size you choose. For the 2-seater model 9 metres, for the 3-seater 10 metres and for the Maxi 11 metres from a regular fabric roll. The cover is completely removable and for cleaning you need to follow the instructions for the chosen material.
Mattress
The seat includes a NEW MOON mattress made of polyurethane foam (density 30 kg/m3) with a cover of 100% polyester and a height of 13 cm. The side strip of the mattress is made of highly breathable 3D fabric for perfect ventilation of the mattress. The mattress has a so-called topper, a mattress cover that allows easy maintenance of the bedding and thus prevents mite breeding and moisture retention. Your sleep will be healthier. For an additional fee, you can also choose another type of topper mattress, please see the configuration window. All mattresses offered can also be purchased separately. You can contact us here. This sofa is rated for a maximum mattress height of 13 cm.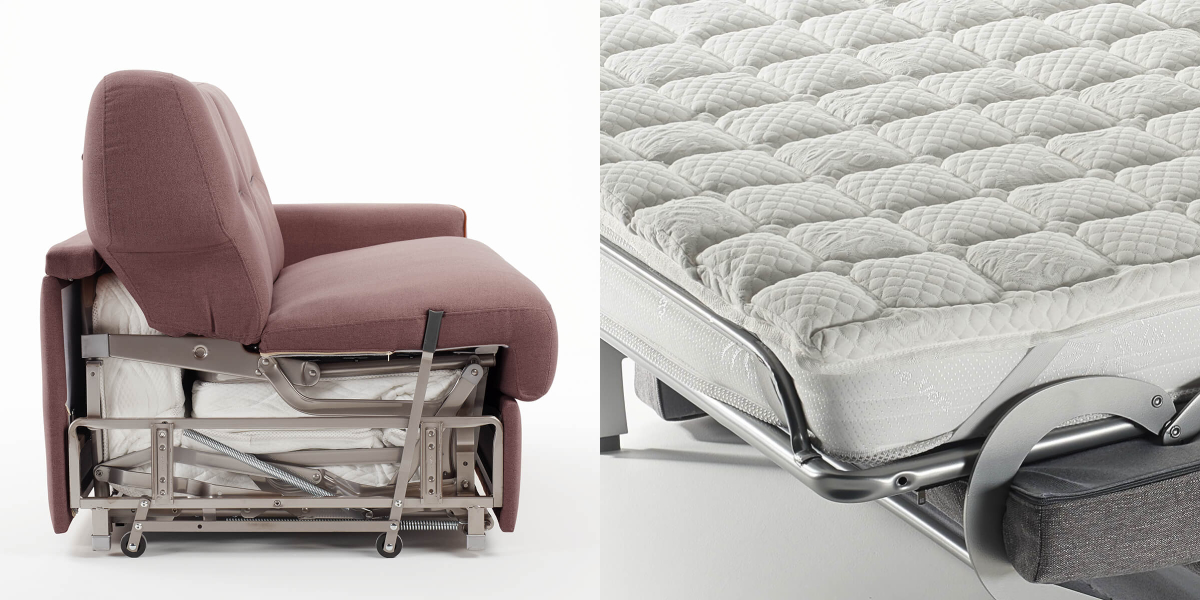 Mechanism
The sofa is equipped with the innovative Otello pull-out mechanism. This is a folding mechanism that can be used to open the sofa in one movement, which also leaves the seat and back cushions in place. The pull-out mechanism has a standard electrically welded base with elasticated seat belts and an optional grid. A slatted grate can be selected at an additional cost to further stabilize the bed. In the demonstration video you can see how easy it is to unfold.


Theseat can be completed with cushions in 2 sizes and 3 types of design
Comfortable and stylish living room
This range of furniture brings innovation and originality to the space. It makes practical use of space and adapts to many styles thanks to the variety of materials. So sit back and perfect your space.
We want your furniture to last as long as possible. Because we know that proper maintenance plays an important role in its durability, we have prepared some tips and recommendations on how to care for different types of surfaces and what to avoid >> furniture care.
| | |
| --- | --- |
| Width | 1480-1790 / 1680-1990 / 1880-2190 |
| Depth | 970 |
| Overall height | 860 |
| Seat height | 460 |
| Packaging | 1 |
| Guarantee | 24 |
| Material | dřevo, polyuretan, látka/kůže |
| Heat resistance | Yes |
| Fabric / leather consumption | 8 / 10 |
Catalog
Fiore-Scheda-Tecnica-Data-Sheet.pdf
Vitarelax - katalog 2014.pdf
Vitarelax - katalog novinek 2016.pdf
VITARELAX - katalog 2019.pdf