Manufacturer:
Avant-garde Spanish furniture VONDOM Innovation, design and style Young, innovative, dynamic and above all unmissable - that's VONDOM furniture . The brand proudly proclaims...
Beige low bar chair AFRICA
For private and commercial spaces
There is beauty in simplicity. This is certainly true for the beige minimalist bar stools from the Africa collection. You will also appreciate their practicality, as they are suitable for indoors and outdoors and are stackable. The chairs are available in several colours and you can choose between matt and lacquered finishes. Their simple, timeless look makes them a great addition to almost any bar. The seat of the lower version of the Africa bar stool is 64.5 cm high.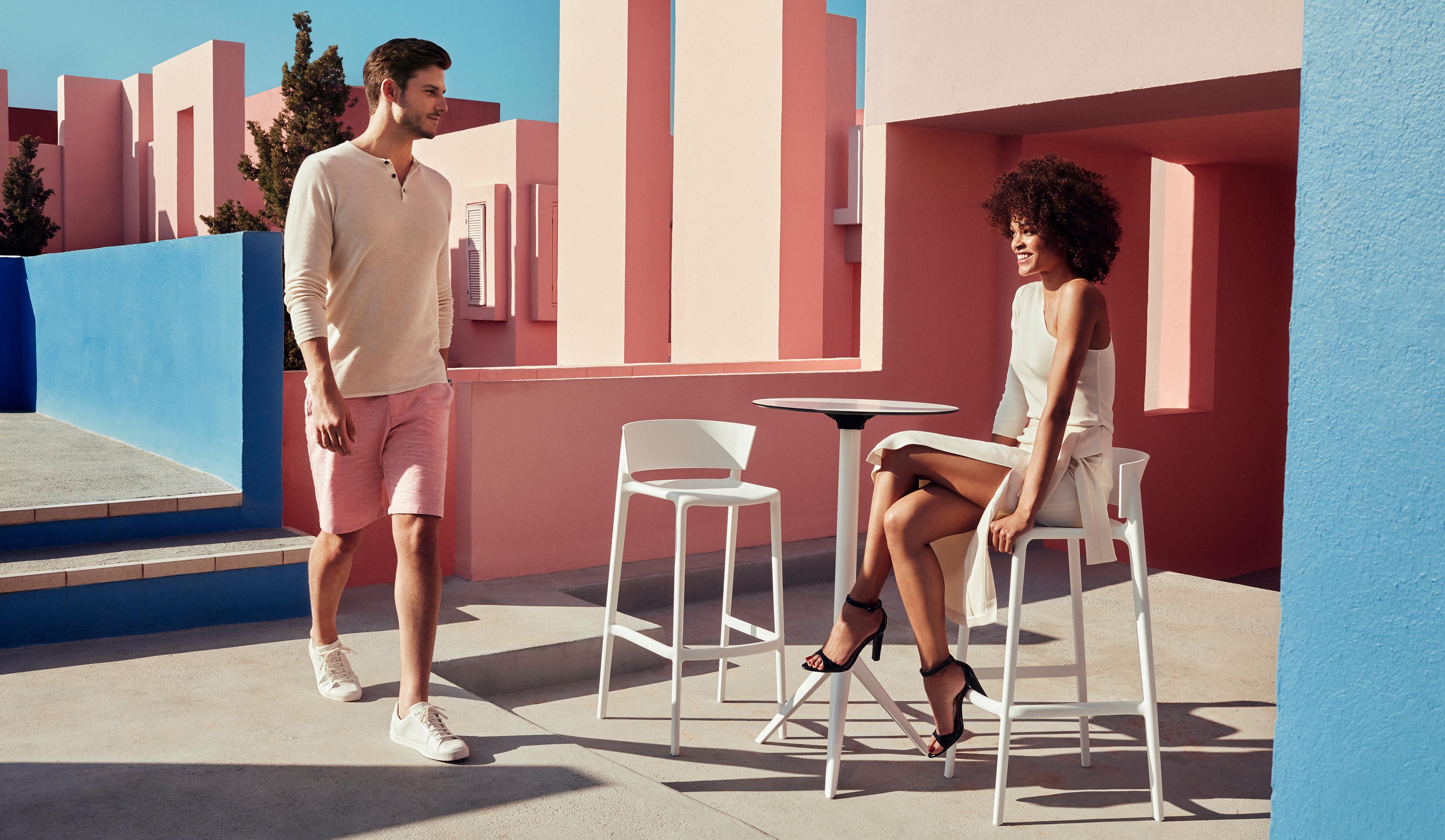 High or low bar stool? Which is the right one?

High bar stools are mainly used in restaurants, bars, bistros and other eating establishments. It is characterised by a seat height of around 75 cm. For a high bar stool, it is recommended to have a bar top between 110 and 115 cm high.

Thelow or also kitchen bar stool is most commonly used for home kitchen bars and islands. Its seat height is around 65 cm. The recommended height of the bar top is then between 91 - 95 cm
AFRICA Collection

The minimalist Africa collection is the work of Catalan designer Eugeni Quitllet. The initial idea was based on just two chairs. After great success, the collection was enriched with bar stools that give the impression of having grown from the original items. Quitllet says that all of these pieces go to define beauty in simplicity. The designs were designed to bring us back to our essence in a sensual way and bring us closer to our "tribe" of friends. The material is 100% recyclable polypropylene, which gives the chair a lightweight feel. Select items from the collection can also be purchased in Revolution plastic, which has been fished from the Mediterranean Sea. The chairs and bar stools are ideal for a restaurant or hotel, because their simplicity and timelessness means you won't go wrong.


We want your furniture to last as long as possible. Because we know that proper maintenance plays an important role in its durability, we have prepared some tips and recommendations on how to care for different types of surfaces and what to avoid >> furniture care.
| | |
| --- | --- |
| Width | 480 |
| Depth | 470 |
| Overall height | 850 |
| Packaging | 4 |
| Guarantee | 24 |
| Package volume | 0,47 |
| Stackability | 4 |
| Material | plast polypropylen |
| Outdoor use | Yes |
| Heat resistance | Yes |
Catalog
vondom-revolution.pdf
VONDOM_GREEN.pdf
VONDOM_DAILY.pdf